The Ruslyn Pack Reel® is a small hand held ergonomic lightweight reel. It is designed to handle many types of coil-able products and able to be used with a gloved hand in extreme environments. The Ruslyn Pack Reel® has 2 webbing slots on the back of the spool for attachment to webbing or it can simply be carried in a pack. Used by EOD teams, Swat teams, clearance divers, military engineers and police bomb squads.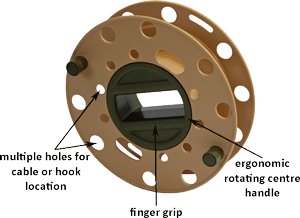 Operating instructions
Place the left or right hand through the hole in the rotating center handle and grip the 2 raised ridges with four fingers. The thumb and palm of the gripping hand will comfortably rest on the back of the Pack Reel center handle. Attach the inner end of a coil-able product such as hook & line to any of the 18 holes in the spool face. Simply wind on using either of the rotating winder knobs with the other hand.
When shipping or storing multiple Pack Reels, fit them together by inserting the 2 winder knobs through any 2 of the 10 holes in the back of the Pack Reel spool.