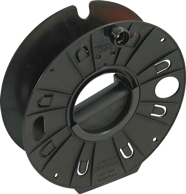 Ruslyn Cordwheel®
~ Reeling in Audio Visual & Outside Broadcast
Part Number AUS004754-11 (black) NSN 8130/1641770
The Ruslyn Cordwheel® is a hand held, lightweight, ergonomic, multi-function cord wheel used by the audio visual and broadcast industries for the tangle free cord reel handling and storage of cables used in outside broadcast, film production and event management. Cord Wheel overview at https://cordwheel.com/reel-specifications/
Ruslyn Pack Reel®
~Mini Reel used in Audio Visual & Outside Broadcast
Part Number AUS004754RPR-11 (black) NSN 8130/661649356
The Ruslyn Pack Reel is a small lightweight hand held reel used for handling shorter lengths of cable such as microphone, speaker and cat5. As a lightweight small reel it is easily handled and stored. Mini Reel overview at https://cordwheel.com/ruslyn-pack-reel/
CABLES USED IN AUDIO VISUAL
Audio visual, outside broadcast and film production cables are efficiently handled, stored and protected on the Ruslyn Cordwheel® and Ruslyn Pack Reel.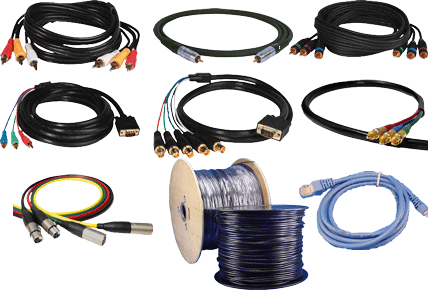 VIDEO AND FILM PRODUCTION
The Ruslyn Cordwheel and Ruslyn Pack Reel are both used as cord wheels in cable handling during film production. As  OH&S cord wheels they improve the safety of film crews who regularly operate in cluttered environments. Both the Cord Wheel and Pack Reel play an important role in protecting expensive cables. The Ruslyn Cordwheel is used as a camera cable reel, power cable reel, microphone reel and speaker cable reel. The Ruslyn Pack Reel is a small reel ideal for handling shorter lengths of microphone cable and speaker cable. Also used to handle cat5 cable.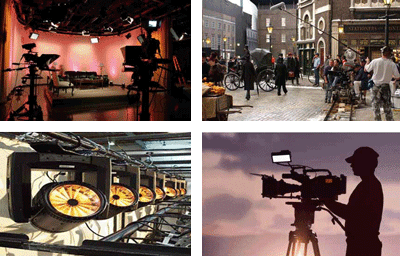 OUTSIDE BROADCAST AND EVENT MANAGEMENT
The Cordwheel and Pack Reel are both used for reeling cables in outside broadcast and event management. They are both corrosive resistant and UV protected. The Pack Reel has no metallic components and the Cordwheel handle and winder knob are attached by stainless steel screws. Both reels are impact resistant, rugged and lightweight. They can assist with managing expensive cables which can be damaged during use. The Cordwheel and Pack Reel therefore assist in cost reduction by deploying and storing cables in a safe and efficient manner.
AUDIO VISUAL CABLES AND RUSLYN
CORDWHEEL® CAPACITY
FLEXIBLE ETHERNET:
Belden 1304A: 160m
Belden 1305A: 150m
MICROPHONE CABLE:
Belden 8412: 100m
Belden 1192A: 150m
Roadworx RW200120 : 100m
Roadworx RW20SQ24: 150m
ANALOGUE VIDEO CABLE, RG59 FLEXIBLE:
Belden 9259: 150m
Roadworx RW400122: 150m
Barrier tape, NDT tape: 150m
DIGITAL VIDEO CABLE, RG59 FLEXIBLE:
DIGITAL VIDEO CABLE, RG6 FLEXIBLE:
Belden 1694F: 150m
Barrier tape, NDT tape: 100m
ANALOGUE AUDIO SNAKE, 4 WAY FLEXIBLE:
ANALOGUE VIDEO SNAKE, 8 WAY FLEXIBLE:
Further information can be found on the Product Specifications Overview page.