Specifications:
The Ruslyn Cordwheel® is Australian designed and manufactured. It is used throughout Australia and exported worldwide. The Ruslyn Cordwheel® is used by defence, homeland security, emergency services, diving, mining, audio visual, broadcast, movie production, industry and many other fields. The Ruslyn Cordwheel® is NATO codified and approved for use with Army, Navy and Air Force.
NATO STOCK NUMBER (NSN) 8130/66-153-3558 (green/black)
NATO STOCK NUMBER (NSN) 8130/66-161-2121 (yellow/red)
NCAGE CODE Z04V9
Construction
Spool: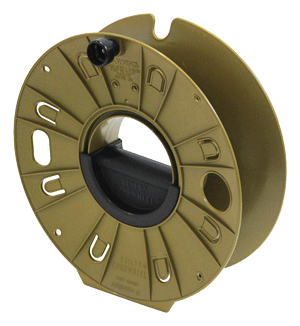 Polypropylene
Impact resistant
UV stabilised
Chemical resistant
Fire retardant
Recyclable
RoHS Compliant
Centre Handle and Knob: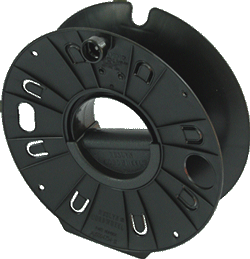 ABS
Impact resistant
UV stabilised
Recyclable
RoHS Compliant
Intellectual Property
Registered Trade Mark 1020770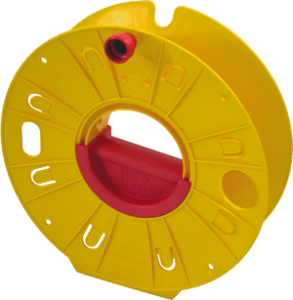 Design Registration 302435
New Zealand Trade Mark 748463
USA Trade Mark 77009355
USA Design Registration 29/277,562
CCR registered (USA)
NECO vendor registered (USA)
FedTeDS vendor registered (USA)
GeBIZ Trading Partner (Singapore)
Part Numbers
AUS004754-61 green/black (defence) NATO stock number (NSN) 8130/661533558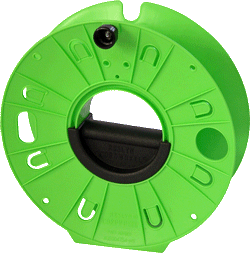 AUS004754-42 yellow/red (emergency services and industry)
AUS004754-11 black/black (audio visual and broadcast industries,
police operations)
AUS004754BKT optional mount bracket
Dimensions
Reel diameter 35.6cm (14 inch)
Reel width 10.9cm (4.3 inch)
Weight
Empty reel 785g (1.73 lb)
Packed carton (five reels) 5kg (11 lb)
Color
Packing
Five reels per carton with operating instructions.
Some Identified Applications
Cable Management of explosive ordnance disposal (EOD) cables and hook & line, detonator cord, firing cable (black & tan), AWG number 18 and Lead in line, divers life line.
Cable management of communication and data cables including Don 10 cable, WD-1/TT cable, WD-1A/TT cable, WF-16/U cable, WF-8/G cable, Cat 5 cable, Cat 6 cable, Cat 7 cable, optical fibre cable.
Cable management of audio/visual cables including Belden 1304A, Belden 1305A, Belden 8412, Belden 1192A, Roadworx RW200120, Roadworx RW20SQ24, Belden 9259, Roadworx RW400122, Belden 1505F, Belden 1694F, Belden 1904A, Belden 1908A.
Cable management of power supply cables, compressed air hose, BA hose, fire hose, rope, barrier tape, NDT tape & rope, chain and wire, electrical sub station safety marking rope holders, test cables and safety ropes.
Capacities
Signals cable WD-1/TT (Don 10): 350m (1148ft)
Cat cable: 175m (574ft)
Power cable: 30m (98ft)
Rope 10mm (3/8″): 50m (164ft)
Firing cable: 250m (820ft)
Detonator cord: 175m (574ft)
Shock tube: 400m (1312ft)
Air hose: 20m (65ft)
Fire hose (19 & 25mm): 30m (98ft)
Optical fibre cable: As Required
Audio / Visual cable: As Required
Barrier tape, NDT tape: As Required
Wire and chain: As Required
Stacking
The Ruslyn Cordwheel® has a unique design which allows reels to be stacked together for cable management and transport in boxes and racking for storage.
A custom made mount bracket is available for the Ruslyn Cordwheel® which is NATO codified (NSN) is 5340/661562603.
This bracket is constructed using marine grade aluminium and is lightweight and extremely strong. It is supplied with 4 stainless mount screws enabling it to be fixed to vehicles, ships, planes and buildings.